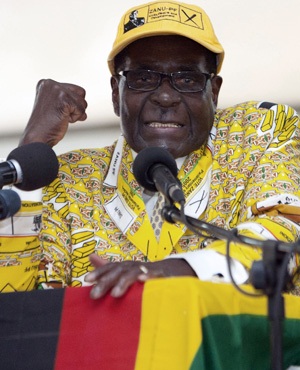 REVEALED: Mugabe 'was leasing out land to whites', says report
|
Harare – Former Zimbabwe president Robert Mugabe has been leasing out some of his family's farm land to white businessmen – even though he threatened others for doing that while he was in office, a private newspaper reported at the weekend.
As recently as late October, Mugabe said black owners who invited whites back to rent and work seized fields would lose their farms.
But the Zimbabwe Independent reports that the former first family was doing exactly that: leasing out part of Mazowe Citrus Estate to a company in which some of the main shareholders were white.
The Mugabes seized a large portion of Mazowe Citrus Estate several years back. It is in a rich farming district north of Harare.
A top shareholder at CFI Holdings, Hamish Rudland, told the paper that Mugabe had approached them through intermediaries when he was still president. Mugabe said he was impressed with the way the company ran another farm near Harare.
Mugabe's double standards
Rudland "confirmed entering into a deal with the Mugabe family at a time they were discouraging and even threatening mostly new land owners from working with white farmers", the Zimbabwe Independent said. Under the deal Mugabe was to get 5% of turnover.
The revelation has exposed Mugabe's double standards: he was outspoken in his criticism of party members, including some traditional chiefs, who entered into partnerships with whites.
"If you don't want to use the land, tell us openly not to clandestinely enter into arrangements with former white farmers coming from Johannesburg," Mugabe told a council meeting of more than 200 chiefs in Bulawayo in late October.
"We will chase both you and your white farmer from that land. This land was fought for," Mugabe was quoted as saying by state media at the time.
The Zimbabwe Independent said the former president and family members between them owned a total of 15 809 hectares of land.