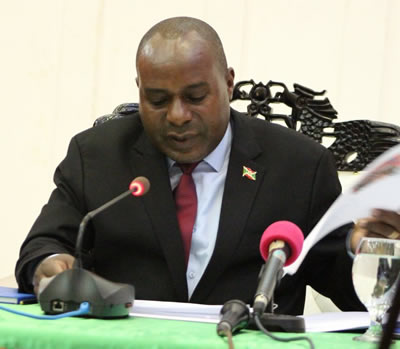 Burundi Politics: No overestimation in planning at the level of Burundian ministries; Says Joseph Butore
|
Members of the House of Commons and Senators noted a probable overestimation in the planning of certain activities of departments. Their concerns are based on the differences in the report of the achievements of the second half of 2016 when some of the activities are carried out in full at a budgetary consumption rate of less than 20%. For his part, the second vice-president of the Republic reaffirms that there is neither overestimation nor underestimation.




In this 66-page report of the twelve development and social ministries under the control of the office of the second vice-presidency sanctioning the achievements of the second half of 2016, MEPs and senators welcome its readability. However, some activities have been carried out to the limit of forecasts and in others, the consumption rate is less than 50%. At the 20th page of this report, at the level of the Ministry of Health and the fight against HIV / AIDS, a concrete activity was carried out in its totality by a budget consumption of 16%; At the 31st page, an activity of the Ministry of Communication required only a 19% consumption of its forecast and the Ministry of Human Rights, an activity was carried out by 31% of its budget forecast.
MP Pierre Célestin Ndikumana believes that this is not an overestimation in planning. "If the planned activity can be achieved in its entirety at a budget consumption rate of 16%, one wonders what There is an overestimation in the planning areas of these ministries. "In these austerity budgets, they require funds that are not needed for any kind of activity," he said. Deputy Ndikumana.
On the contrary, in this report again, some budgetary forecasts are completed before the completion of the activity; Which is predictable on some pages of the Ministry of Environment. "Some activities are almost half or one third of the outputs, but the planned budget has been consumed in full, where do these unrealized activities go when the budget has been budgeted?" , Asks MP Pierre Célestin Ndikumana who is already thinking about an underestimation of the real value of the activity.
The Second Vice President of the Republic, Joseph Butore, said that there was no overestimation. "There is no overestimation." Given the current organization, diverting 1fbu through the Ministry of Finance, it is very difficult, if overestimated, these funds are not going anywhere. Of the technicians who, in October, transfer this money to other priority sectors, "said the number two Burundian Executive.
Despite the readability of this report, MEPs and senators are asking that the observation column be added to shed light on activities whose achievements do not fit the budget estimates.