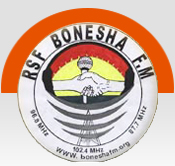 Burundi: One of the three radio stations still closed could soon resume its programs – Bonesha FM
|
14 February 2017, it has been 21 months at least that three Burundian private media are closed after the failed putsch of 13 May 2015. The National Communication Council via its spokesman said that one of them could resume Programs, provided they change premises. The director of the radio said he was pleased, but felt that there was no question of moving.
Of the three media, only the Bonesha Fm radio could resume immediately its programs according to the spokesman of the CNC, National Communication Council. But one condition is that of changing premises. Gabriel Bihumugani explains that justice may need it for his investigations, otherwise the radio has no problem with this body.
"The problem lies in the prosecution of the lawyers, and they do not have a problem with the national communication council, they do not have a problem with the law, they can re-broadcast, they For the time being, journalists were forbidden to cross the studios, and they could agree to work elsewhere, Bonesha radio can restart its activities, "said Bihumugani on behalf of the CNC.
These words seem to comfort the director a.i of this station. Léon Masengo who, however, believes that there is no question of changing seats. "This is where all the equipment is stored," he said. He also said that the National Human Rights Commission has already made the observation that the station has no problem with the justice system. The CNC's confidence is an added value.
This chance of reopening is not given to two other stations, the African public radio and radio-TV renaissance. According to the CNC spokesman, their officials said the issue goes beyond this regulator. On 14 May 2015, in the aftermath of the failed coup attempt against the Bujumbura power, six independent media had been closed, only three of which had been allowed to resume their programs so far.