Zimbabwe latest: Robert Mugabe 'will be officially dismissed as president on Sunday'
|
Robert Mugabe will be dismissed as Zimbabwe president at a meeting on Sunday morning, sources have said.
The meeting, which is scheduled to start at 10.30am (8.30 GMT), will also reinstate vice-president Emmerson Mnangagwa and remove Mugabe's wife Grace, from the leadership, according to reports.
The announcement came as thousands took to the streets of Zimbabwe's capital Harare to demand the end of Mugabe's leadership after four decades in power.
Euphoric crowds marched in celebration of the end of the Mugabe era, with people of all races calling for the official process to be sped up.
Some had posters with an image of the military commander who swept in earlier this week and put the 93-year-old under house arrest, with the slogan: "Go, go, our general!!!"
Marchers handed flags to soldiers.
"It's like Christmas," said one marcher, Fred Mubay, who added that Zimbabweans have been suffering for a long time.
Mr Mugabe, the world's oldest head of state, is said to be asking for more time amid negotiations that seek his exit with dignity.
But the crowds in Harare today made it clear the country was ready to move on without him.
Some of the demonstrators were removing street signs with the name of President Robert Mugabe and stomping on them.
Meanwhile, crowds gathered outside Zimbabwe House on the Strand, in London, to celebrate what they dubbed " our independence day".
Jackie Luvv, who left her homeland 20 years ago, said: "We are here to see a new Zimbabwe, the rebirth of Zimbabwe. We are calling it our Independence Day."
The 34-year-old said Zimbabwe under Mr Mugabe's rule offered nothing for her generation.
She added: "There was no future for us. We had finished school, we were bright but there were no prospects of anything."
Ms Luvv said: "We are certain that he is leaving. We are going to do it peacefully though. The world is watching."
Her schoolfriend Audrey Charowa said she had seen people from across the political spectrum of Zimbabwe at the gathering in London, reflecting unity among those wanting Mr Mugabe to leave office.
She said: "I'm here because we have not had democracy in Zimbabwe since the 80s. We've never been able to protest. The police always moved in in their riot gear."
Ms Luvv added: "What they did today (the march in Harare) is a sign of what is to come. People are ready for the change."
Many in the crowd in London waved Zimbabwe flags and carried placards reading "One Zimbabwe, one nation" and "Bob's not my uncle".
Karen Insalata brought her 15-year-old daughter Georgia to Zimbabwe House for the "party".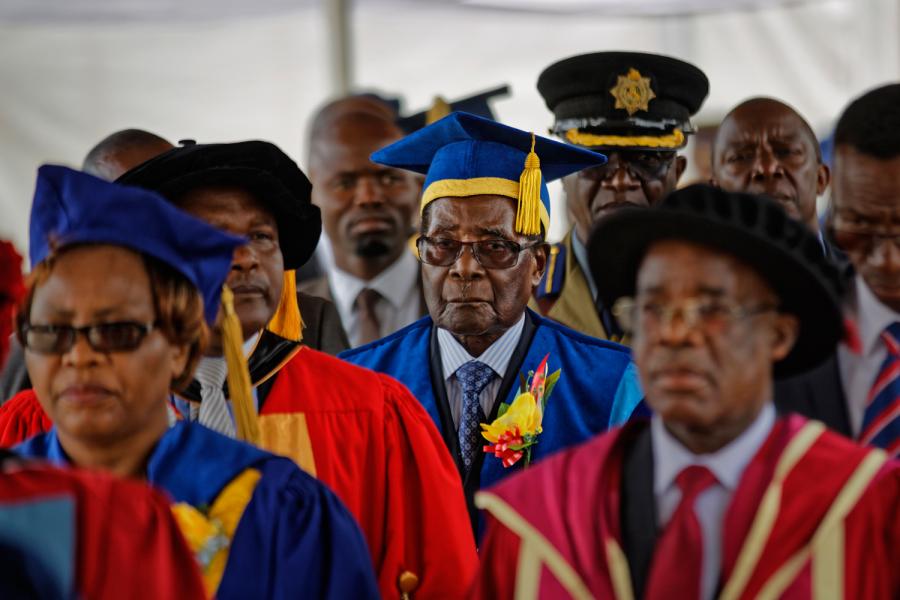 The business consultant, who also left Zimbabwe as a teenager, said: "We never thought this day would happen."
Asked for her thoughts on the future she said she is hopeful. Smiling, she replied: "Anything is better then Mugabe.
"It's a bit like anything is better than Trump. It's the same. Every single one of us has been affected by this guy (Mugabe)."