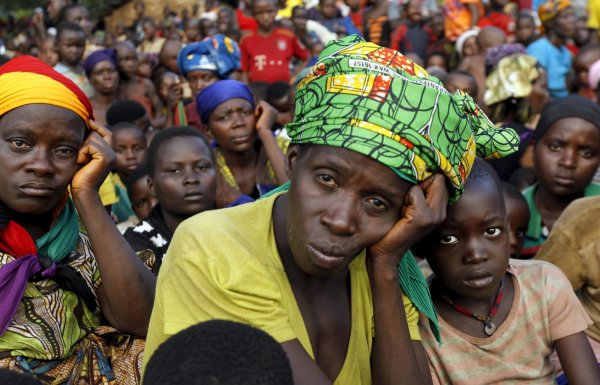 Tanzania: Authorities push forward blanket ban of groups of refugees on 'security' grounds
|
Tanzania has gone ahead with a new measure that suspends the granting of refugee status for groups of asylum seekers arriving from neighbouring countries.
For almost 40 years, Tanzania has welcomed thousands of refugees fleeing conflict in neighbouring countries of the Great Lakes Region. Recent political crises in Burundi and the Democratic Republic of Congo (DRC) have displaced hundreds of thousands, and there are currently more than 300,000 refugees living in four overstretched camps, in Katavi, Tabora, Kigoma, and Kagera.
Home affairs minister Mwigulu Nchemba, who last week was visiting Kigoma, the lake port town close to the border with troubled Burundi and the DRC, said that Tanzania would only allow asylum seekers to apply for protection on an individual basis.
Asylum seekers will no longer be allowed to enter Tanzania as groups. Individual immigrants will be subject to tight scrutiny by relevant authorities before being granted refugee status.
In his speech in Kigoma which hosts the largest number of refugees who have fled violence in the DRC and Burundi, the minister drew a parallel between the influx of refugees, the arms trade, and the rise of crime.
"In my capacity as Home Affairs Minister, I am suspending the process of granting citizenship to refugee groups because we have witnessed its adverse impact, especially in Tabora where most parts of the region face security threats," the minister is quoted as saying.
Nchemba said the government was enforcing the blanket ban on the grounds of security, describing the entrance in the country of a substantial number of illegal firearms, as he oversaw the dismantlement of 5,600 illegal firearms, allegedly seized from groups of refugees from neighbouring countries.
Like many hosting countries in the region, Tanzania lacks sufficient resources to meet all humanitarian needs, and Nchemba said the government felt that not all refugees from the Great Lakes region were coming in search of protection from ethnic or political violence.
In November 2016, medical humanitarian organisation Médecins Sans Frontières/Doctors WithoutBorders (MSF) warned authorities in Tanzania were struggling to cope with a dramatic increase in the number of new Burundian refugee arrivals in the last months.
David Nash, MSF's head of mission, said Burundi was rapidly becoming one of "Africa's biggest refugee crises". The government has no plan to open new refugee accommodation.