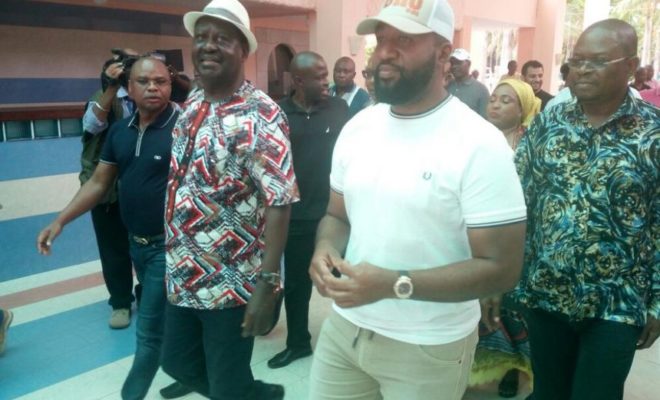 NASA plans national fete for Raila swearing in
|
NASA leaders have said plans are still underway to swear in Raila Odinga as Kenya's president.
ODM executive director Oduor Ong'wen on Sunday said Raila will be sworn-in at a national ceremony in due time.
"We will swear him in wapende wasipende (whether they like it or not)," Ong'wen said without giving a specific date.
He said the People's Assemblies are not meant to take over the county assemblies but are meant to give sovereign power back to the people as guaranteed by the constitution.
The state, he said, is under the people because it comes third under the organisational structure of the country according to the constitution.
"I believe and many other people believe the only legitimately elected person as the President of the Republic of Kenya is none other than Raila Odinga," said Ong'wen.
He said apart from Raila, the only other time Kenyans have been allowed to elect their president of choice in 54 years was in 2002 when former president Mwai Kibaki was elected.
The ODM boss said Kenyans have have refused to be ruled by force.
"Why should we accept to be shaved by force? You cannot shave a person in their absence," said Ong'wen.
Economist and NASA strategist David Ndii said Kenya is a divided country and needs to heal.
He said healing can only come when ownership of resources is recognised locally.
"Who will have control over resources?" said Ndii.
He said the elite should not decide for people in counties what is best for them.
"What happens in Lamu is a national project, but what happens in Nyeri is local project," said Ndii.
He said there has to be a renegotiation of what defines Kenyanhood.
"So talk of self-determination is our right," said Ndii echoing Ong'wen.
"Kenya has to be built on a new foundation," he said.
He noted that the incentive for centralising people is to exploit people.
Raila was to be sworn in on December 12, but the event was put off to the dismay of NASA supporters.
President Uhuru Kenyatta has issued repeated warning against using unconstitutional means to air grievances, while the Attorney General said Raila's swearing in will be considered an act of high treason.