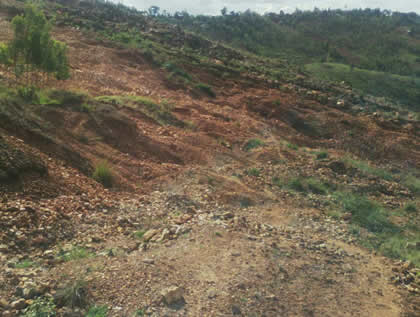 Muyinga, Burundi: The anarchic gold farmers have no concern for the protection of the environment.
The miners continue their activities under the helpless gaze of the inhabitants near the threatened sites of flow. Civil Protection Police raid sites to deter illegal operators from shutting down. Arrests are sometimes made but all measures are not at all dissuasive with those operators for whom mines are their only source of survival.
On the slope of Kinyota hill, towards Cibari in Muyinga commune, a large part of the soil is bare. Holes and trenches are visible on mostly stony ground. Illegal gold miners are making returns to these holes in this site located on the outskirts of the urban center of Muyinga.
The miners have no concern about the requirement of environmental protection, we learn from an inhabitant of the locality whose plot was the object of these operations. They destroy everything in their path, adds a farmer who saw her property in the valley downstream covered with pebbles and currently unusable. "Faced with the power of money, we keep quiet, these small farmers work on behalf of Richards called BOSS, if not these activities would have been stopped by the relevant departments," she added on condition of anonymity.
"Is the police aware of it?
Police officers in charge of civil protection frequently make descents on the site. Gold miners are arrested or objects such picks, hoes … seized, as the case last Saturday. The agents of order are sometimes accomplices of these exploitations, one learned on the spot. When you get caught, you have to pay in a little money to be relaxed before you are presented to a judicial police officer, reveals a goldsmith. Mine is life, in spite of the constant calls of the administration as to the danger of these exploitations, we continue to dig just to find food for the families, we add.
A year ago, the communal administration launched a campaign to rebuild the plant cover on the gold mining sites. The operation lasted a few weeks. Administrative sources indicate that it is the civil protection police that have the tracking capabilities of these illegal operators. The police officers contacted say they do their best to try to stop those who have a surveillance system from the probable presence of a security officer. In Muyinga Township, gold is also exploited anarchically on the hills of Cibari and Nyagatovu.